Switch GmbH & Co. KG offers entire light systems with integrated emergency light in completion to the LED-lighting strip product range. These systems are available for shaft lighting applications in the elevator range as well as for building and route way illuminations.
The Switch-light systems take over an emergency illumination in case of a breakdown of the main power supply.
You will find a short summary of all features of the shaft lighting control unit here.
Key features of the building control unit have been summarised here.
Description of the product
The light systems consist of the easy connect LED120plus-lighting strip with emergency light and a suitable light control unit. The unit includes the rechargeable battery for the emergency light power supply, the charging unit and the necessary electronic system to switch on the emergency light in case of a power breakdown. The light systems of the elevator range and the building illumination differ by the configuration. Thus the light control unit for the building appliaction is available in a robust plastic housing as well as in a shock-resistant, lockable metal housing.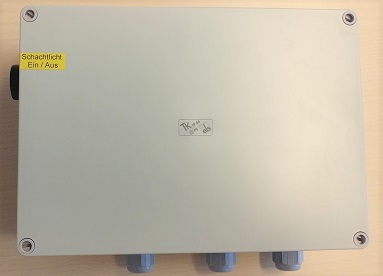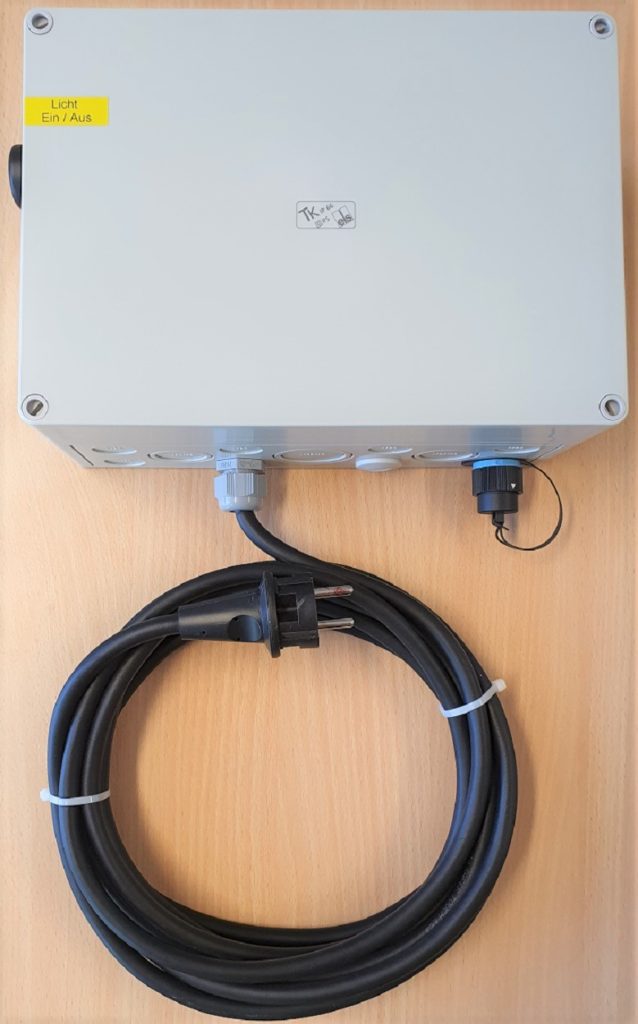 The Switch light-systems operate independently of an existing elevator control unit respectively building illumination. They are ideal for retrofiting, modernisation and first illumination.
The Switch electronic systems can be placed in the engine room, in the shaft or at any place of a building due to it's compact design and the high safety class IP65.
The units monitor continuously the main power supply during operation and will switch immediately to the emergency light in case of a breakdown of the main power. The maximum conservation time of the emergency light is depending on the length of the LED-strip.
The control unit includes an illuminated push button. The lighting can be switched on immediately with this push button without any further means. The correct operation of the lighting is indicated by the operation display of the push button.
All terminals are designed for fast installation. They are well marked and easy accessible. The light control unit of the elevator range includes a connection of a plug socket of a pit bottom control box, which is pre-wired and fused internally as well as additional connections for light push buttons.
The light control unit of the route way illumination includes a 4.5 m power cord and a socket with interlocking device for the LED-lighting strip connection. Therefore the system is ready for immediate use.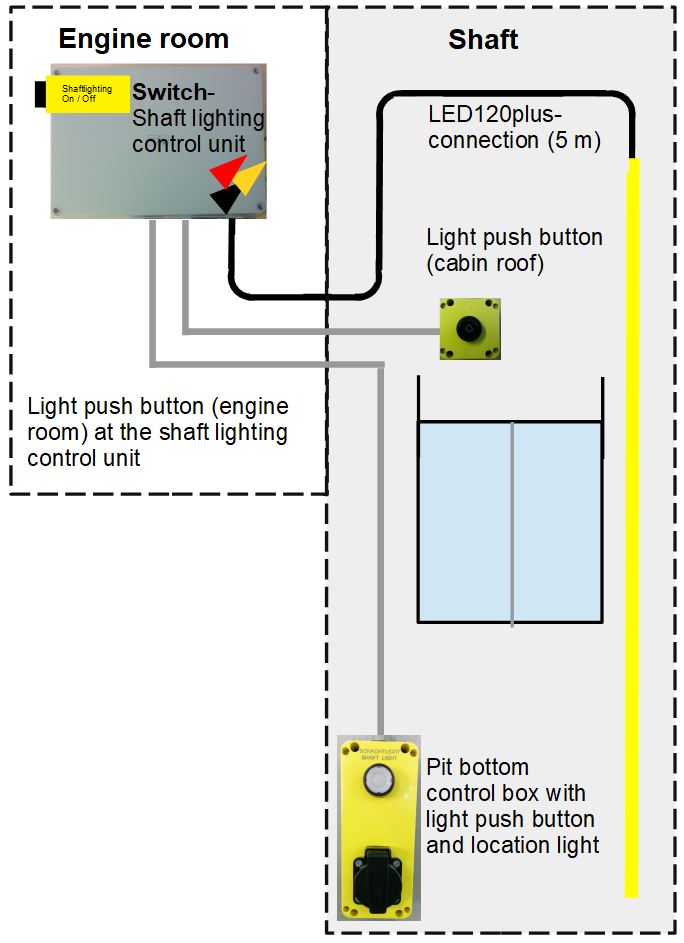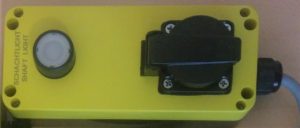 Key featues at a glance
Shaft- respectively building illumination and emergency lighting in one system
Easy and quick installation
Emergency lighting in the entire shaft or building
Emergency light power supply of more than 3 hours
Independant of any exsisting elevator control unit or lighting system
Pit bottom control box pre-wired and fused (only shaft lighting control unit)
Technical data
Input voltage
220 – 240 VAC
Average conservation time of emergency- respectively safety lighting
up to 30 m – lighting strip > 3 hours
up to 40 m – lighting strip > 2 hours
up to 60 m – lighting strip > 1 hour
Material; metal- / plastic box
Metal, powder coated / Polystyrene
Safety class
IP65
Temperature range
-20 °C to +50 °C
Dimensions [width x height x depth]; metal- / plastic box
300 x 220 x 300 / 255 x 110 x 180 mm
Weight; metal box- / plastic box
approx. 10 / 4.1 kg
Fuse for plug socket of pit bottom control box (only shaft lighting control unit)
10 A
The product variant easy connect LED120plus/5ct is especially designed for the direct use with the shaft lighting control unit. It has a 5 m-connection cable for an easy and quick installation.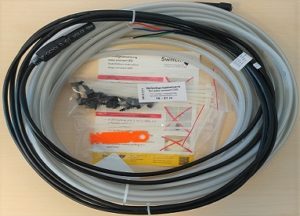 You will find further information here.
Suitable lighting strips with integrated emergency light
The LED lighting strip for route way and building applications with safety light is equipped with a connector incl. an interlocking device. It is delivered optionally on a reel for an easy installation and storage.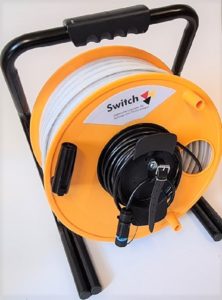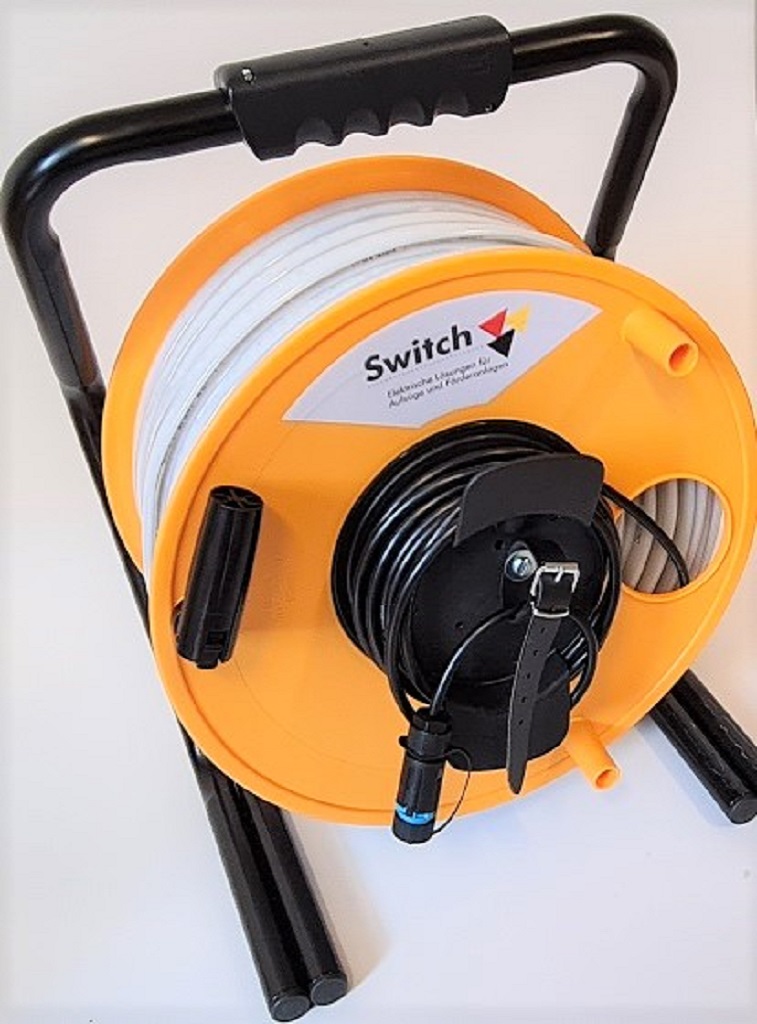 You will find further information here.
The light control units can be installed easily and put quickly in operation following the enclosed wiring diagram.
Further information and details are summarised in the installation and user manual (at present only in German).
Please contact Switch GmbH & Co. KG helpdesk for continuative information.
Orders can be placed directly
by e-mail: order@switch-gmbh.de
Purchase requisition
Please contact Switch helpdesk for any further question.
Phone: +49 511 616 59 60-0
We will advise you willingly.