About us
The Switch GmbH & Co. KG is an owner controlled company located in Isernhagen close to Hannover / Germany.


1998
Foundation of Switch GmbH & Co. KG; design, construction and manufacturing of components and testing equipment for elevator and crane industry.
1999
Exclusive representation of Giovenzana International B.V., a leader of manufacturing of components for elevators and cranes.
2001
Introduction of easy connect 1 shaft lighting
2003
First development of remote controlled operating panels of cranes using Bluetooth-technology
2005
Outsourcing of the Bluetooth-control technique in BluePendant GmbH & Co. KG
2005
Introduction of easy connect 2 shaft lighting
2007
Expansion of manufacturing in the product range of customized switching components
2014
Introduction of easy connect LED shaft lighting
2016
Introduction of easy connect LEDplus shaft lighting with emergency light function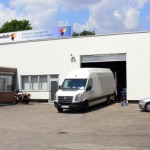 We can offer numerous customized solutions in the product range of switching devices together with our sales partner Giovenzana International B.V.. We will help with words and deeds as a reliable partner.
Although being experts in mechanical and electrical engineering special emphases of activities have been given to the industrial sectors of crane and lifting devices.
Switch GmbH & Co. KG and it's partners are operating internationally and are offering a branched network worldwide. Our specialized experts are able to support your project respectively company where ever you require it.
Please test us! Ask for our support and expertise. The Switch GmbH & Co. KG will provide individual solutions with a tailor made approach. We will implement it in close co-operation with you and will make a go of your project.