Shaft lighting control unit
Switch GmbH & Co. KG is proud to offer a complete system exceeding the European safety regulation EN81-20 5.4.10.4c. In addtion to the easy connect LEDplus shaft lighting a control unit is available.
This unit includes the power supply for the emergency light as well as the necessary electronic system suitable for the LED shaft lighting with emergency light function. The unit monitors continuously the main power supply and will switch immediately to the emergency light in case of a breakdown of the main power.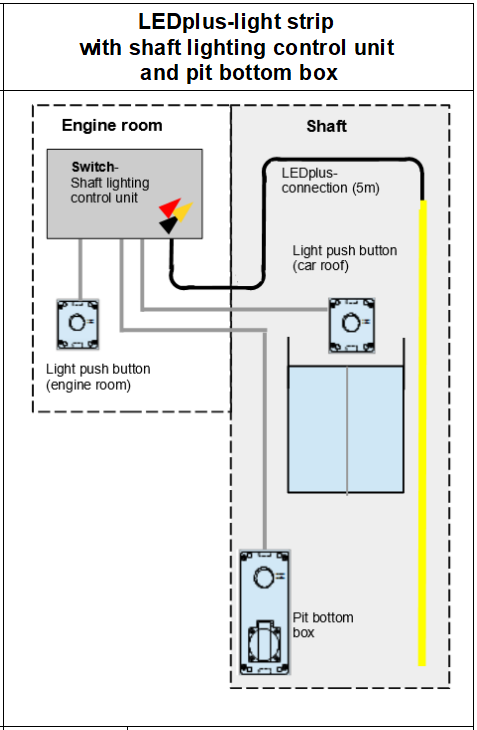 The box includes the rechargeable batteries, the charging unit for the low voltage circuit und a fuse for the plug socket of the pit bottom control box.
A lighted button with two functions is implemented. On one hand it allows to test the emergency light function on the other hand it indicates that the emergency light is in operation.
The Switch electronic systems can be placed in the engine room or in the shaft.
The maximum operating time of the emergency light is depending on the height of the shaft respectively the length of the LED-strip. In general the Switch shaft lighting control unit provides an emergency light of more than 3 hours exceeding the EN 81-20.
The Switch control unit operates independently from any other elevator control unit. Therefore it is especially suitable for modernisation and upgrades.
All terminals are designed for fast installation. They are well marked and easy accessible
The connection of a plug socket of a pit bottom box is prepared and fused internally.
The shaft lighting control unit is available in 2 models. It can be equipped with a latching relay or a cross connection depending on the existing circuit layout.

This Switch shaft lighting control unit offers an emergency light of more than three hours and thereby exceeding the European safety regulation. The electronic is placed in a very compact solid polysterene box, which meets the protection class IP66.
| Technical data | |
| --- | --- |
| Input power | 230 - 240 VAC |
| Output power / main power supply | 230 - 240 VDC |
| Output power / emergency light | 24 VDC |
| Average duration of emergency light | > 3 hours |
| Power consumption emergency LED light strip | 0.6 W/m, max. 25 W/50 m |
| Material of the box | Polysterene |
| Housing protection class | IP66 |
| Temperature range | -20°C up to +50°C |
| Dimensions (Width x Height x Depth) | 255 x 180 x 110 mm |
| Weight | approx. 4.1 kg |
| Fuse for plug socket of pit bottom box | 10 A |
Please contact Switch GmbH & Co. KG for further information and technical data.