Components for hoisting devices and cranes
This product range includes single and double row pendant stations up to 14 holes. The products are designed for control units suitable for direct or indirect drive; rotary gears, position limit switches, slip rings, emergency horns, handling and busbar systems.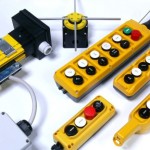 Pendant stations
P02 – PTRM – P03 – DC16 – PL – DC30 – TLP-Series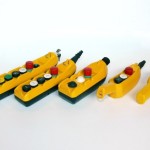 We offer pendant stations for small hoist applications in single and double row or direct power circuit switchings and tail lift controls.
Giovenzana International B.V. confirms that the pendant stations P02 – P03 -PL – PLB meet the following standards according to the regulation CE89/392 (Appendix IIB):
Harmonisied standards

EN292 Part 1 and 2 (safety of machines)
UNI EN ISO 9001 EN60529 (IP protection class)

Standards and technical specifications

IEC 947-5-1 (components for low voltage applications)
FEM 9.941 (application area)
The manufacturer is responsible for maintenance of technical documentation as required in appendix V of the CE standard for machines.
Cross limit switches
FCR-Series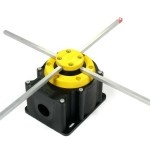 Self extinguishing housing according to V-0 UL94
Protection class IP65 according to IEC/EN 60529
Operating temperature range: -25 °C up to +55 °C
Temperature range for storage: -30 °C up to +70 °C
Materialclass II, dirtclass 3 according to IEC/EN60947
Slop break double gap contacts, positive opening
Cable entry dia. 22.5 mm
Position limit switches
FGR-Series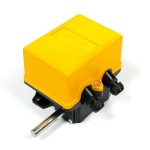 These switches determine the position of rotating devices: Cable drums of cranes, spindles etc. The cams can be adjusted independently of each other with micrometer screws. The typ FGR****B has a coaxial shaft to connect an encoder.
Aluminium housing with self extinguishing plastic cover according to V-0
Protection class IP65 according to IEC/EN 60529
Galvanisied spindle with ball bearing
Cams with refined steel shaft and ball bearing
Cams and micrometer screws made of PA
Max. numbers of operating contacts: 6 (6 cams)
2 cable entries with M20 cable glands
Operating temperature range: -25 °C up to +70 °C
Slip rings
Scudo – Prisma – Navale
We offer 20-50 A slip rings with 3 to 16 rings without housing or with protection class IP65.
Slip rings are used to transfer electrical signals and power energy between stator (stationary unit) and rotor or vice versa. They are comprised of 3 or more graphite or metal contacts, mounted on the steel shaft. The contacts brushes are all replaceble easily and are in graphite (Prisma and Navale-series) or copper (Scudo-series).
Warning horns
AA-Series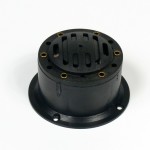 The warning horns are dedicted for the use in trucks, tractors, elevators and a multitude of industrial applications.
Continious operation
Frequency: 300-350 Hz (G100-Series), 50 Hz (G75-Series)
Sound level (distance 1 meter): 95.3 dB(A) (G100-Series), 88 dB(A) (G75-Series)
Wall mounting
IEC/EN60529 Protection class: IP65 (G100-Series), IP30 (G75-Series)
Interface: 2-way terminal G100-Series, 3-way (2P+E) G75-Series
G100-Series – double insulated
Handling systems
We offer the festoon lines 30 and 41 and the busbar series TR60 and TR85.
Festoon lines 30 and 41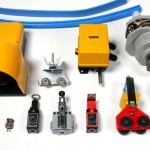 The festoon systems of line 30 and 41 are made of 'C'-rail bars fixed along the crane's movement line. The lines include track support brackets, towing trollies, round cable trollies and a variaty of accessories.
Bushbar systems
TR60 und TR85-Serie
The bushbar-series TR60 and TR85 are a state-of-the-art and safe systems for energy and data transmission applicable for various types of equipment: cranes, bridge cranes, conveyor belts, chain conveyors etc..
The series meet all relevant international standards of operation security, easy installation and reliability. The TR60-series is designed for currents up to 60 A, while the TR85-series can be used up to 200 A.
The bushbar series are availble in 2 versions:
A) Blue line: The copper conductors are already pre-mounted in the PVC-housing for easy installation.
B) Yellow line: PVC-bushbars and the copper strips are separated. The copper will be delivered on cable drums. First the bushbars have to be installed. Finally the coppers strips are inserted in the housing in one piece. The use of a roll holder might be necessary in case of large systems.